International Yoga Day  is a community conscious event featuring, fun and flowing yoga, posture classes, deep relaxation, yoga breathing, exciting kid's games and social activities. One core process, which can be influenced by yoga practice, is our ability to observe our thoughts emotions and sensations without reacting to fix them, hide them or solve them. This awareness creates room for choice between impulse and our action.
The purpose of yoga day is to raise worldwide awareness of the many benefits of yoga. Yoga is an ancient, holistic approach to health and well-being that promotes harmony between individuals, their community, their natural environment and
the wider world.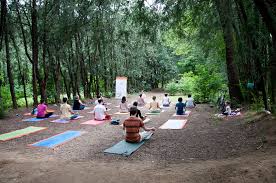 Ancient yogis understood yoga as a complete lifestyle and world view that can help you to discover who you are as well as your relationship to the world and nature and as such can provide valuable insights into addressing environmental challenges and promoting peace in the individual, peace in communities and peace in the world. The sages of India understood that the outer can change by changing the inner, that the nature of our consciousness therefore affects the nature of our environment.
Yoga originated in the Indus Valley Civilization. Patanjali's Yoga Sutras are widely regarded as the first compilation of the formal yoga philosophy. The Guru Granth Sahib states:
Listen "O Yogi, Nanak tells nothing but the truth. You must discipline your mind. The devotee must meditate on the Word Divine. It is His grace which brings about the union. He understands, he also sees. Good deeds help one merge into Divination."
Yoga is an ancient art based on a harmonizing system of development for the body, mind, and spirit. The continued practice of yoga will lead you to a sense of peace and well-being, and also a feeling of being at one with their environment. Serving others is part of yoga and can give meaning to your life.
Happy International yoga day.